Blue Hawaiian Heart-Shaped Forget Me Not Butterfly Pea Jello
These sensational Blue Hawaiian Heart-Shaped Jello will take the center stage at your next luau! The secret to these amazing heart-shaped jello is the love affairs of using both Suncore Foods® Forget Me Not Flowers and Butterfly Pea Flowers to achieve the magical iridescent deep ocean blue hue. Indulge your sweet tooth with these instant hit jello.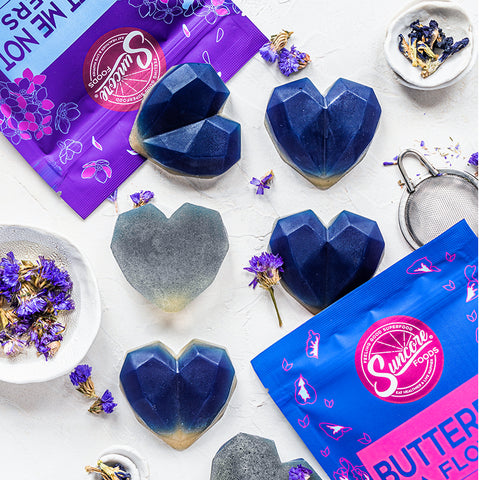 Directions
1. Forget Me Not Tea – In a container with a spout or one from which you can easily pour liquid, combine Suncore Foods® Forget Me Not Flowers + boiling water. Let sit for 10-15 minutes and using the back of a spoon, gently press down on the flowers in order for them to release more flavor.
2. Butterfly Pea Tea – Strain the tea and discard the Suncore Foods® Butterfly Pea Flowers. Equally divide tea into two and place 1.5 cups into a saucepan. Add Butterfly Pea Flowers to the remaining tea and set aside for 5-10 minutes. Strain and discard flowers.
3. Forget Me Not Jello Layer – Add ¼ cup sugar and ¼ tsp agar agar to the Forget Me Not saucepan and bring to boil while stirring. Cook for 2 minutes and reduce heat to low. Continue to cook for 3-5 minutes until all ingredients have completely dissolved. Stir regularly not allowing for the mixture to burn or stick to the bottom of the saucepan. Immediately transfer mixture into molds, jars or glasses by equally dividing the mixture into your preferred containers. Refrigerate for minimum 30 minutes before adding next layer.
4. Butterfly Pea Jello Layer – Follow the same process to cook the jell-O and transfer to molds. Refrigerate for minimum 1-hour up to overnight.

5. Cooking Note(s) — If using a liquid sweetener instead of granulated sugar, increase agar agar by ¼ tsp per layer.
---