Blue Checker Almond Cookies
It's impossible to be sad while eating a cookie! Turn your frown upside down and spread the love with these gorgeous Blue Checker Almond Cookies. These sophisticated & polished cookies will be the talk of the town, and they are incredibly buttery delicious! Recreate this fun pattern and kiss your blue away with Suncore Foods® Aqua Blue Spirulina & Blue Butterfly Pea Powders. The secret ingredient is always love & a touch of powder's magic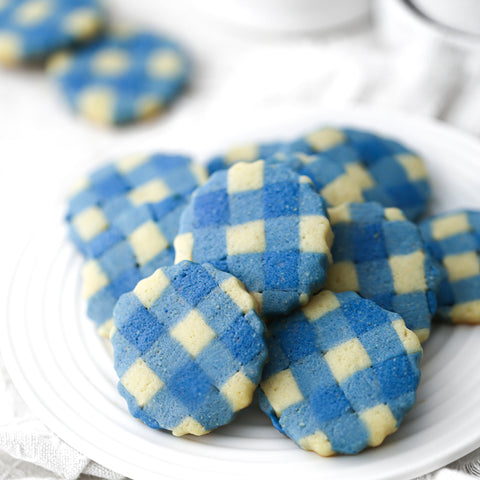 Directions
1. Place all ingredients in a food processor, pulse until everything is incorporated, do not over mix.

2. Divide dough into 3 portions. (Largest portion for the pale blue; original & dark blue in equal portion)

3. Add in Suncore Foods® Powder directly to the dough; knead until fully incorporated. Add an extra tsp of Suncore Foods® Aqua Blue Spirulina Powder for the darkest blue shade.
4. Transfer them to a cling wrap; let in chill for 15-30 mins.

5. Roll the dough into equal thickness; cut them into equal strips then assemble into checked pattern.

6. Bake them at 165 degrees Celsius preheated oven for 12 mins. Enjoy!
---