Blue Butterfly Mochi Coconut Ice Cream
We spruce up this "mochi" needed treat with a dash of enchanting blue and ice cream. Ice cream is always a good idea, especially when it has Mochi + Suncore Foods® Butterfly Pea Flowers in it!! We especially love this Blue Butterfly Mochi Coconut Ice Cream only needs 6- to make and the recipe below makes 10 so you'll have plenty for yourself and your friends, enjoy!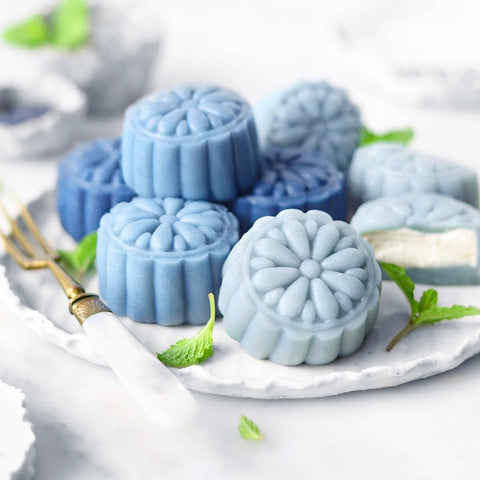 Directions
1. Scoop ice cream about 25g each with a mini ice cream scooper into an lined baking sheet, place ice cream in the freezer until its ready to wrap with mochi.
.
2. Make the Mochi – In a medium bowl combine all mochi ingredients and whisk until smooth. Strain mixture through a fine mesh sieve. Grease a small pan with vegetables oil. Pour the mochi mixture onto the prepared pan. Place into a steamer on medium high for 20 minutes. Turn off heat and let mixture cool. Wrap Mochi with cling wrap and refrigerate for 1 hour. When the mochi is ready, oil your hands with vegetables oil, divide the dough into 10 equal pieces. Put mochi between 2 sheets of plastic wrap and roll into circle. Add frozen ice cream, close the mochi by pinching at the seams. Roll into a round shape, coat Mochi with rice flour. (Optional* Place mochi into a mould. Press to print the pattern.)

3. Transfer Mochi to the freezer to set, about 1 hour. Enjoy! 
---