Blue Butterfly Pea Galaxy Kohakutou Candy
Add some glitz to your weekend by sweeten up with these Blue Butterfly Pea Galaxy Kohakutou Japanese Candy (琥珀糖) made with Suncore Foods® Butterfly Pea Flowers. The magical rock structure edible crystal "amber candy" with colorful mesmerizing iridescent shine are surprisingly easy to make at home with two simple – agar and sugar! A crunchy outer rust and delightfully chewy inside. Guaranteed to make you do the happy dance!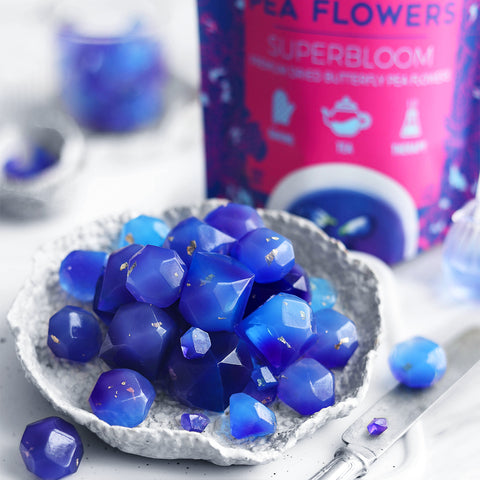 Directions
1. Additionally 1/4 tsp Suncore Foods® Blue Butterfly Pea Powder for different shades of blue. Place the Suncore Foods® Butterfly Pea Flowers in a measuring cup and add boiling water. Let sit for 10 mins. Use a spoon to press the flowers against the bottom of the cup so they release more color. Discard the flowers once the color is vivid enough.
2. Add 120g butterfly pea flower water in a saucepan, add agar agar power and stir well. Bring the mixture to a boil, stirring constantly. Add sugar, cook on
low for another 3 minutes. Turn or the heat, add flavoring if using.

3. Divide mixture into 3 portions. Add the lemon into one portion and mix well. Pour the first portion of the mixture into a mold, Add the purple mixture and
dark blue mixture on top and swirl with a toothpick.

4. Place the mold in the fridge for 3 hours to set.

5. Remove the set candy from the mold and cut into crystal shapes using a
sharp knife.
---