Black Sesame Matcha Cookie Sticks
We found the perfect cookie for dipping with your favorite drinks! These Black Sesame Matcha Cookie Sticks are the ultimate snack to enjoy anytime of the day. They are irresistible cookies paired with the yummy taste of matcha chocolate coating, matcha-made in heaven. You can recreate this beautiful earthy hue using Suncore Foods® Midori Jade Matcha Powder. This cookie will be the talk of the town at your next gathering, bake the world the better place.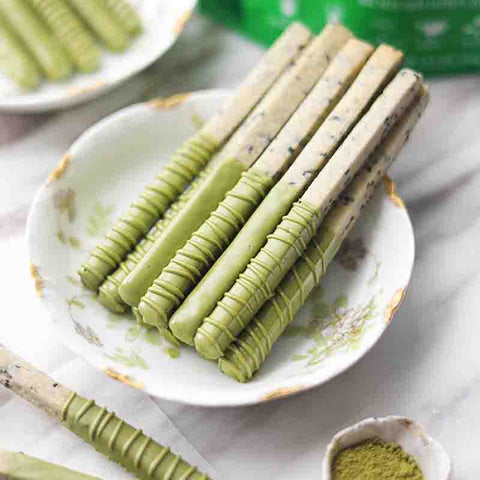 Directions
1. Cookies – In a food processor, add all cookie ingredients pulse until a dough ball forms. Roll out dough into rectangular, about 1cm thick. Place the rolled dough in the freezer for 20 minutes. Then cut out the strips, about 1cm. Lift the strips and place them on baking sheet. Place the baking sheet in the freezer for 15 minutes. Bake at 180 c preheated oven for 15-18 minutes or until edges are very lightly browned. Allow cookies to cool completely.
2. Matcha Chocolate Coating – Combine melted chocolate and Suncore Foods® Midori Jade Matcha Powder, mix until smooth and set aside.
3. Dip cookie into melted chocolate and refrigerate until chocolate is set.
---