Baked Lilac Taro Yam Donuts
Aloha Friday! Donut you love the weekend? We got just the treat to start the weekend right!! Introducing one of our Suncore Foods® Lilac Taro Yam Powder in a quick & easy taro yam glazed baked donuts!!! Super easy, fun, and scrumptious. These donuts are baked perfectly—moist & flavorful. Not only is there taro yam in the donut, also added them in the glaze and top it off with our Suncore Foods® Rose Petals. These gorgeous, royal purple donuts are so delicious that they're the perfect complement to a nice cup of coffee or your favorite cup of drink. This, right here, is the perfect way to start the weekend!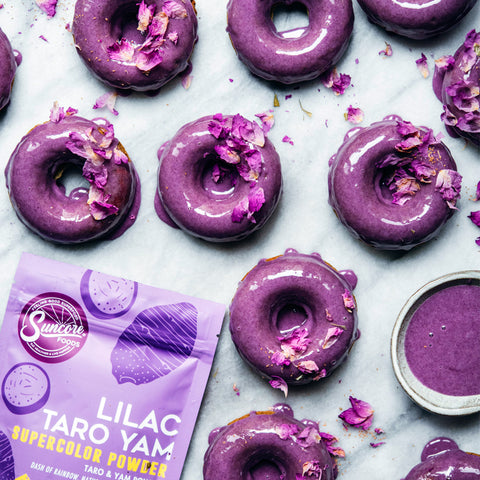 Ingredients
Makes 12 Donuts
Prep Time: 20 Minutes
Cook Time: 12 Minutes
Vegan and Gluten-Free

1 ½ cups gluten free all purpose flour
½ cup oat flour
1 tsp baking powder
1 tsp baking soda
¼ tsp salt
2 tbsp Suncore Foods® Lilac Taro Yam Powder
4 tbsp melted vegan butter
¼ cup unsweetened applesauce
⅔ cup non dairy milk
½ cup cane sugar
¼ cup brown sugar
1 tsp vanilla extract
1 tsp apple cider vinegar

Glaze:
1 cup powdered sugar
2 tbsp Suncore Foods® Lilac Taro Yam Powder
2-3 tbsp non dairy milk
Directions
1. Preheat oven to 350˚F.
2. In a large bowl, mix together both flours, baking powder and soda, salt and Suncore Foods® Lilac Taro Yam Powder.
3. In a separate bowl, whisk together melted butter, applesauce, milk, both sugars, vanilla extract and apple cider vinegar.
4. Using a spatula, stir wet ingredients into dry, stirring just until batter is smooth. Pipe into a greased donut pan.
5. Bake for 10-12 minutes, until tops are golden brown and a toothpick comes out clean. Let cool completely.
6. Whisk together glaze ingredients until smooth. Dip each donut into glaze and let excess drip off. Enjoy!
---