Acai Berry Blueberry Panna Cotta
Looking for a delicious dessert to satisfy your sweet cravings? Look no further than this Acai Berry Blueberry Panna Cotta! Made with Suncore Foods® Amethyst Acai Berry & Indigo Blueberry Powders, you can color your day this beautiful purple hue. It's sure to be a showstopper at your next gathering. So why settle for a boring dessert when you can have something that's both delicious and stunning? Try our recipe today and discover the magic of Suncore Foods!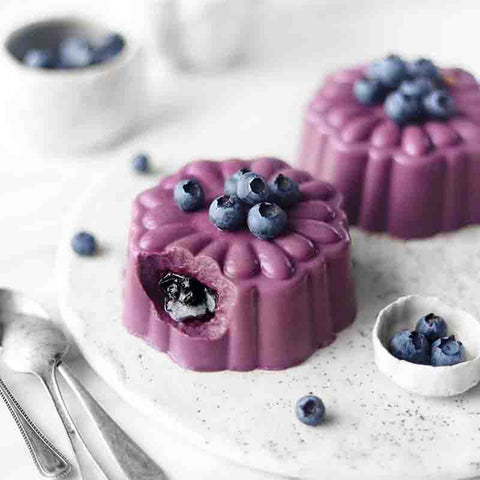 Directions
1. Filling — Add the berries, water & sugar into a saucepan, cook on a medium heat. Mash the berries as they begin to heat up. Add agar powder, Suncore Foods® Indigo Blueberry Powder, and cook until dissolved and mixture reaches to a saucy thick consistency. Remove from the heat. Set aside.
2. Panna cotta — Combine berries, water & sugar in a saucepan bring mixture to a boil. Mash the berries as they begin to heat up. Turn the heat down and continue to simmer for few minutes. Strain mixture through a fine mesh sieve. Use the back of a spoon to press out the juice. ⁣⁣⁣ In a saucepan, combine the berry syrup, coconut cream. Cook on a medium heat, with constant stirring for 1 minute. Add agar-agar and mix until completely dissolved. Whisk in Suncore Foods® Amethyst Acai Berry Powder, Suncore Foods® Indigo Blueberry Powder, and cornstarch. Let simmer for 1 minute. Pour over the mould, about 1/4 full, refrigerate for 5 mins until slightly thickened. Fill about 1-2 tbsp of the filling in the centre, pour the panna cotta over the filling . Transfer to the fridge to set. ⁣
---