Acai Berry Blackberry Tartlets
We're berry excited about these gorgeous treats! How adorable are these Açaí Berry Blackberry Mini Tarts?! It's impossible to have just one. These bite-sized treats incorporate a dash of Suncore Foods® Amethyst Açaí Berry Powder to create this pretty purple.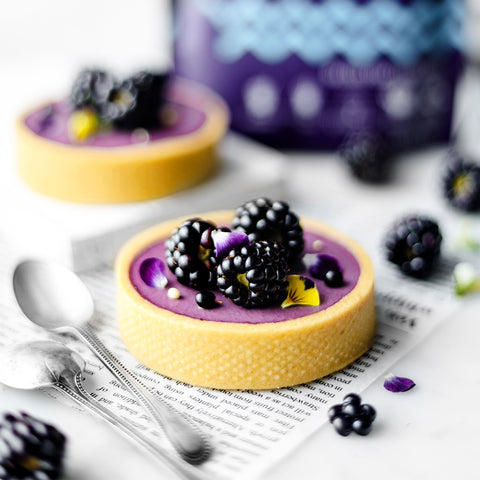 Ingredients
Recipe Makes 3-4 Tartlets:
1 1/4 cups all purpose flour
1/4 cup coconut oil
2 tbsp maple syrup
1/2 tsp vanilla bean extract
1/4 salt

Filling:
1 cup blackberries
1 tbsp Suncore Foods® Amethyst Acai Berry Powder dissolved in 1 tbsp water
1 cup coconut milk
1/3 cup water
1/4 cup maple syrup
1 tsp agar powder
Directions
1. Preheat oven to 180 celsius. Grease tart tins. Set aside. 
In a food processor, combine crust ingredients and pulse to combined.
2. Chill the dough in the fridge for 5 minutes. Roll dough into a large rectangle. Cut out the circles of the chilled dough using your tart ring, cut long strips of dough. Lift the strips and place them on the inside of each tart ring.
3. Bake for 20-25 minutes until crust is golden brown. Transfer to a wire rack and let it cool while you're preparing the filling.

4. Add the blackberries and water into a saucepan over a medium heat. Mash the berries as they begin to heat up. Transfer mixture into a blender and blend until smooth. Strain it through a fine mesh sieve.
5. Add coconut milk into a saucepan and place on the stove on low heat. When the mixture becomes warm add the agar-agar, stirring constantly, cook until agar completely dissolve. Then whisk in berry mixture, dissolved açai mixture and maple syrup. Allow to boil for approximately 30 seconds.
6. Strain mixture through a mesh sieve and allow mixture to cool to room temperature. Gently pour into the cooled tart. Place tart in the fridge for at least 2 hours to set. Remove tart from the tart tin and garnish with berries.
---