Shipping Insurance
ShopWill | In stock
.....
---
---
Special Recipe
Ingredients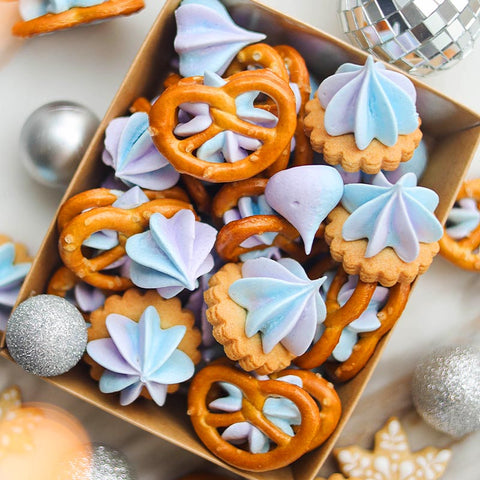 Directions
Tie-Dye Pretzel Meringue Cookies
1. Cookies – In a stand mixer, cream the butter, powdered & caster sugar, almond extract. Add in flour, almond flour, salt, milk and mix for dough forms. Cover dough with plastic wrap and chill in the fridge for 15 minutes. Preheat oven to 180c. Roll dough out onto a piece of parchment paper and cut out the dough using a cookie cutter. Bake cookies for 12 mins. Allow cookies to cool completely.
2. Meringue – Preheat the oven to 90c. Line a baking tray with greaseproof paper.
Clean bowl and whisker using kitchen towel with a little bit of vinegar. Place the aquafaba and cream of tartar into the bowl of an electric mixer.
Whisk for 5 mins until it's double in size and foamy. Slowly add powdered sugar, one tablespoon at the time. whisking until the mixture forms stiff, glossy peaks (15 mins). Add Suncore Foods® Aqua Blue Spirurlina Powder & Suncore Foods® Purple Sweet Potato Powder and whisk to combine. Transfer the meringue mixture into a icing bag with a star tip. Pipe onto the cookie and pretzel.
3. Bake cookies at 90c for 2 hours. Take them out of the oven, let them cool. Store in a dry place so they maintain their shape.
---
Similar Products
Please, add this product to Collection to show a similar products within Collection